Was/Is/Ought
September 18 - December 18, 2021
Whitney Bedford
Zach Bruder
Antonia Contro
Stephen Eichhorn
Brendan Getz
Diana Guerrero-Maciá
Hilma's Ghost
Anne Lindberg
Chuck Ramirez
Kay Rosen
Amanda Ross-Ho
Scott Stack
Oli Watt
Agustina Woodgate
Over the last two years, since the beginning of the pandemic, time has proven to be the great equalizer within the world wide population. The end of 2019 will mark history in most of our lifetimes as the last we knew as "normal" or what Was life as we knew it. The new world landscape of 2020 ushered a paradigm shift toward intensely present living, for what we understood to be what Is began to shift precariously and constantly beneath our feet. The unchartered, ever-changing situation redefined any efforts toward planning or prediction as a fool's errand. As the dust begins to settle, we move toward a hopeful and trepidatious post-pandemic world, carrying forward resolutions in science, politics and personal reassessment of purpose / importance of all things. 2021 is the first year of what is next, and how it Ought to be.
Dating back to the cave paintings of Lascaux to the present day, artists have revealed their core purpose… to be the translators of time. They are the interrogators, the interpreters, the reporters, the recorders and ultimately the myth-makers – utilizing time as a medium for storytelling to present generations and those centuries yet to come.
Moving forward from the known or the Was, philosopher Herbert Marcuse generally stated that the present (is) creating what (ought) to be, i.e. future/world building and imagining...This interpretation states that time – as an entity – is in two places: 1. the present (ie what is happening this very instance) and, 2. the future (or, what ought to be happening next). So, in order to get the future successfully, or meaningfully, one has to be wary of complacency and use their imagination – in order to achieve it (the future). And this imagination is where art making/creativity is planted.
The fourth in our series of survey exhibitions in 2021, Was/Is/Ought will follow the participating artists through the arch of what could arguably be described as the most pivotal time in contemporary life.
Artwork
Whitney Bedford
Vedute (for Picabia)
2019
Ink and oil on panel
28 x 37 in
Whitney Bedford
Veduta (Vuillard Park)
2021
Ink and oil on panel
38 x 27 inches
Zach Bruder
Little Green
2019
Acrylic and Flashe on Linen
50 x 60 inches
Zach Bruder
Insignia
2020
Acrylic and Flashe on Linen
50 x 60 inches
Antonia Contro
Existential (per Siri)
2016
Die cut wood veneer, colored paper
11.25 x 15 inches
Unique edition
Antonia Contro
Ad Infinitum
2015
Digital print in lightbox
51 x 12.75 x 3 inches
Edition 1 of 3
Stephen Eichhorn
Déjà vu (never-ending)
2021
Collage on acrylic coated panel
60 x 48 inches
Brendan Getz
Framed view, studio window (air conditioner)
2013-2021
Oil on stretched canvas
48 x 36 inches
Diana Guerrero-Macia
A Perfect Day
2020
Wool, Dye, deconstructed clothing, rock & on canvas
57.5 x 49.5 inches
Diana Guerrero-Maciá
Drunkard's Path
2021
Tyvek, gouache, wool
160 x 111 inches
Hilma's Ghost
Go ahead, go for it! Go after what you want. You know it's right in front of you so reach out and grab it. Missing an opportunity because you don't take it is worse than trying and failing. Maybe the success will be in the failure? Live without regrets because at least you tried.
2021
Acrylic and flashe on canvas
72 x 96 inches
Hilma's Ghost
Giving and giving and giving leads to the burnout of too much generosity.
2021
Acrylic, flashe, spray paint, ink, colored pencils
20 x 16 inches
Hilma's Ghost
Why are you torturing yourself when you have already healed?
2021
Acrylic, flashe, spray paint, ink, colored pencils
20 x 16 inches
Hilma's Ghost
V - THE HIEROPHANT
2021
Gouache, ink, and colored pencil on Fabriano Murillo paper, mounted on board
17 x 9¾ inches
Hilma's Ghost
XI - JUSTICE
2021
Gouache, ink, and colored pencil on Fabriano Murillo paper, mounted on board
17 x 9¾ inches
Hilma's Ghost
XIII - DEATH
2021
Gouache, ink, and colored pencil on Fabriano Murillo paper, mounted on board
17 x 9¾ inches
Hilma's Ghost
XIV - TEMPERANCE
2021
Gouache, ink, and colored pencil on Fabriano Murillo paper, mounted on board
17 x 9¾ inches
Hilma's Ghost
XX - JUDGEMENT
2021
Gouache, ink, and colored pencil on Fabriano Murillo paper, mounted on board
17 x 9¾ inches
Hilma's Ghost
II - CUPS
2021
Gouache, ink, and colored pencil on Fabriano Murillo paper, mounted on board
17 x 9¾ in
Hilma's Ghost
IV - CUPS
2021
Gouache, ink, and colored pencil on Fabriano Murillo paper, mounted on board
17 x 9¾ in
Hilma's Ghost
V - CUPS
2021
Gouache, ink, and colored pencil on Fabriano Murillo paper, mounted on board
17 x 9¾ in
Hilma's Ghost
VI - CUPS
2021
Gouache, ink, and colored pencil on Fabriano Murillo paper, mounted on board
17 x 9¾ in
Hilma's Ghost
VII - CUPS
2021
Gouache, ink, and colored pencil on Fabriano Murillo paper, mounted on board
17 x 9¾ in
Hilma's Ghost
VIII - CUPS
2021
Gouache, ink, and colored pencil on Fabriano Murillo paper, mounted on board
17 x 9¾ in
Hilma's Ghost
IX - CUPS
2021
Gouache, ink, and colored pencil on Fabriano Murillo paper, mounted on board
17 x 9¾ in
Hilma's Ghost
ACE OF PENTACLES
2021
Gouache, ink, and colored pencil on Fabriano Murillo paper, mounted on board
17 x 9¾ in
Hilma's Ghost
X - PENTACLES
2021
Gouache, ink, and colored pencil on Fabriano Murillo paper, mounted on board
17 x 9¾ in
Hilma's Ghost
ACE OF SWORDS
2021
Gouache, ink, and colored pencil on Fabriano Murillo paper, mounted on board
17 x 9¾ inches
Hilma's Ghost
V - SWORDS
2021
Gouache, ink, and colored pencil on Fabriano Murillo paper, mounted on board
17 x 9¾ inches
Hilma's Ghost
VI - SWORDS
2021
Gouache, ink, and colored pencil on Fabriano Murillo paper, mounted on board
17 x 9¾ inches
Hilma's Ghost
VII - SWORDS
2021
Gouache, ink, and colored pencil on Fabriano Murillo paper, mounted on board
17 x 9¾ inches
Hilma's Ghost
VIII- SWORDS
2021
Gouache, ink, and colored pencil on Fabriano Murillo paper, mounted on board
17 x 9¾ inches
Hilma's Ghost
IX - SWORDS
2021
Gouache, ink, and colored pencil on Fabriano Murillo paper, mounted on board
17 x 9¾ inches
Hilma's Ghost
X - SWORDS
2021
Gouache, ink, and colored pencil on Fabriano Murillo paper, mounted on board
17 x 9¾ inches
Hilma's Ghost
II - WANDS
2021
Gouache, ink, and colored pencil on Fabriano Murillo paper, mounted on board
17 x 9¾ inches
Hilma's Ghost
IV - WANDS
2021
Gouache, ink, and colored pencil on Fabriano Murillo paper, mounted on board
17 x 9¾ inches
Hilma's Ghost
V - WANDS
2021
Gouache, ink, and colored pencil on Fabriano Murillo paper, mounted on board
17 x 9¾ inches
Hilma's Ghost
VI - WANDS
2021
Gouache, ink, and colored pencil on Fabriano Murillo paper, mounted on board
17 x 9¾ inches
Hilma's Ghost
VIII - WANDS
2021
Gouache, ink, and colored pencil on Fabriano Murillo paper, mounted on board
17 x 9¾ inches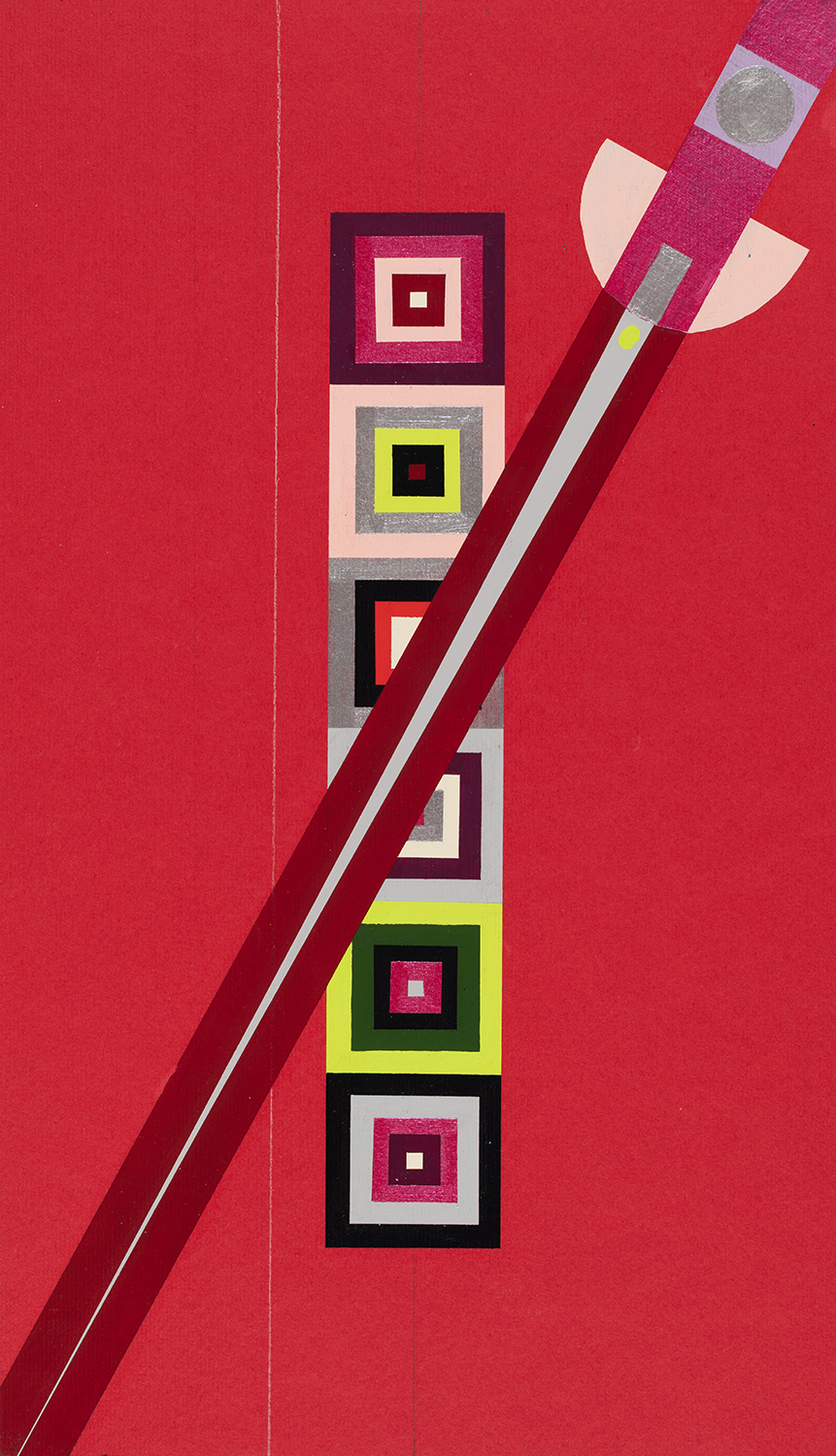 Hilma's Ghost
KNIGHT OF WANDS
2021
Gouache, ink, and colored pencil on Fabriano Murillo paper, mounted on board
17 x 9¾ inches
Anne Lindberg
temperatures
2021
Graphite and colored pencil on mat board
24 x 81 inches
Chuck Ramirez
Quarantine: Pink Ribbon
2000, 2011
Pigment inkjet print
46 x 34 inches
Edition 3 of 6
Courtesy of Ruiz-Healy Art
Chuck Ramirez
Quarantine: Purple Ribbon
2000, 2011
Pigment inkjet print
46 x 34 inches
Edition 3 of 6
Courtesy of Ruiz-Healy Art
Chuck Ramirez
Quarantine: Turquoise
2000, 2011
Pigment inkjet print
46 x 34 inches
Edition 4 of 6
Courtesy of Ruiz-Healy Art
Kay Rosen
Blue Monday
2015
Continuous loop on DVD
9 minutes, 12 seconds
Edition of 100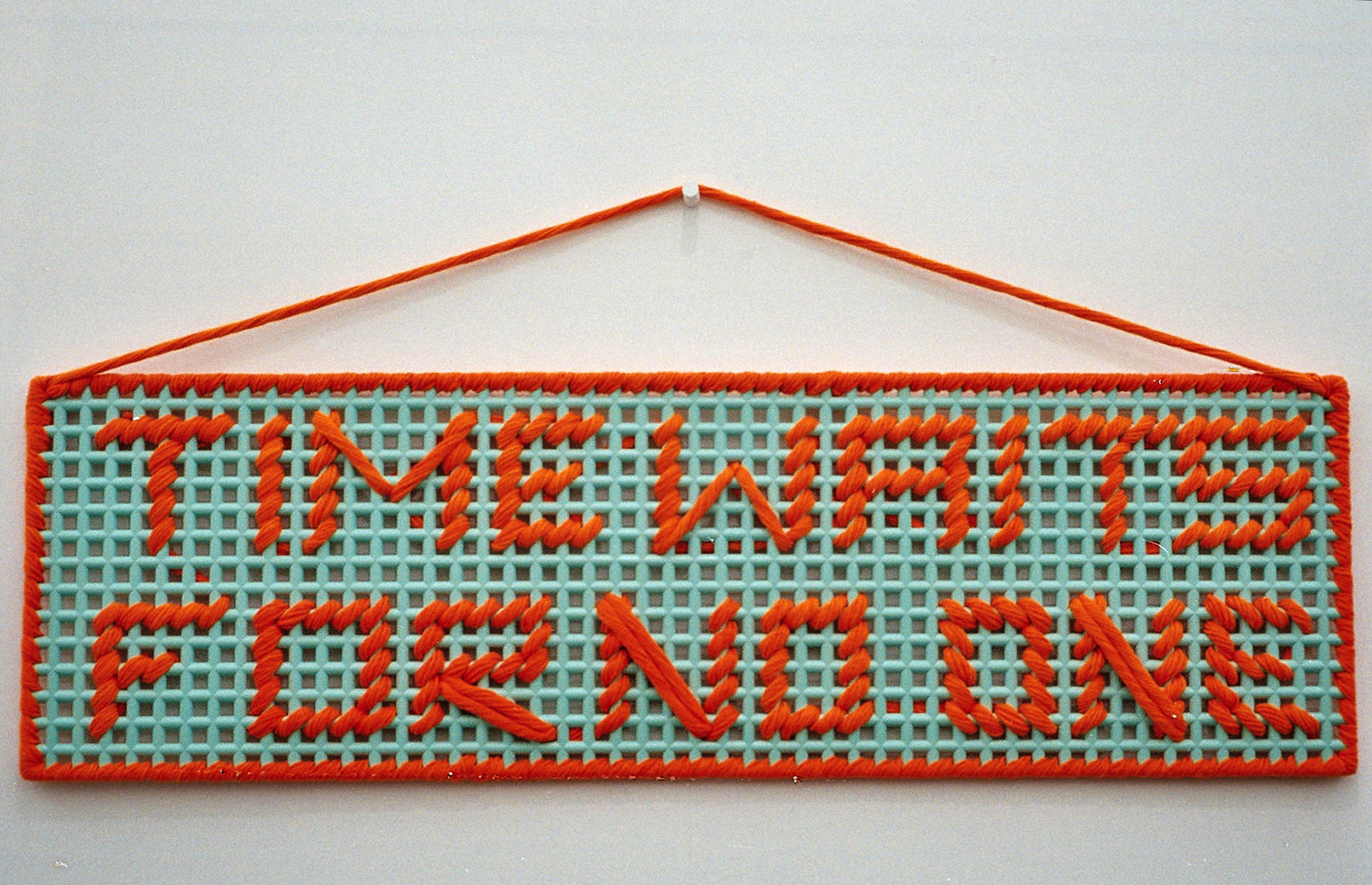 Amanda Ross-Ho
TIME WAITS FOR NO ONE
2011
Urethane plastic, hand-dyed, hand-plaited wool
36 x 89 x 1 inches
Scott Stack
Didn't realize that the light had changed
2021
Oil on canvas on panel
78 x 66 inches
Scott Stack
Fold test LGR
2021
Oil on canvas on panel
40 x 30 inches
Scott Stack
Fold test PK
2021
Oil on canvas on panel
40 x 30 inches
Oli Watt
Block
2020
Balsa, concrete
14 x 4 x 8.5 inches
Oli Watt
Camo
2021
Pine, duct tape
12 x 6 x 9 inches
Oli Watt
Drift
2020
Pine, oak, found wood
18 x 7 x 8 inches
Oli Watt
Dunk
2020
Ash, dogwood
8.5 x 8.5 x 12 inches
Oli Watt
Frame (Trojan Duck)
2021
Maple, oak
19 x 9 x 10 inches
Oli Watt
Gull
2021
Bass, found wood
18.5 x 7 x 12 inches
Oli Watt
RIngo
2020
Cherry, maple, found wood
9 x 6.5 x 9 inches
Oli Watt
Let Go
2021
Lego bricks
17 x 7.5 x 9 inches
Oli Watt
Roger
2020
Pine, walnut, found wood
9 x 7 x 7 inches
Oli Watt
Roger Too
2020
Walnut, wood epoxy
11 x 8 x 6 inches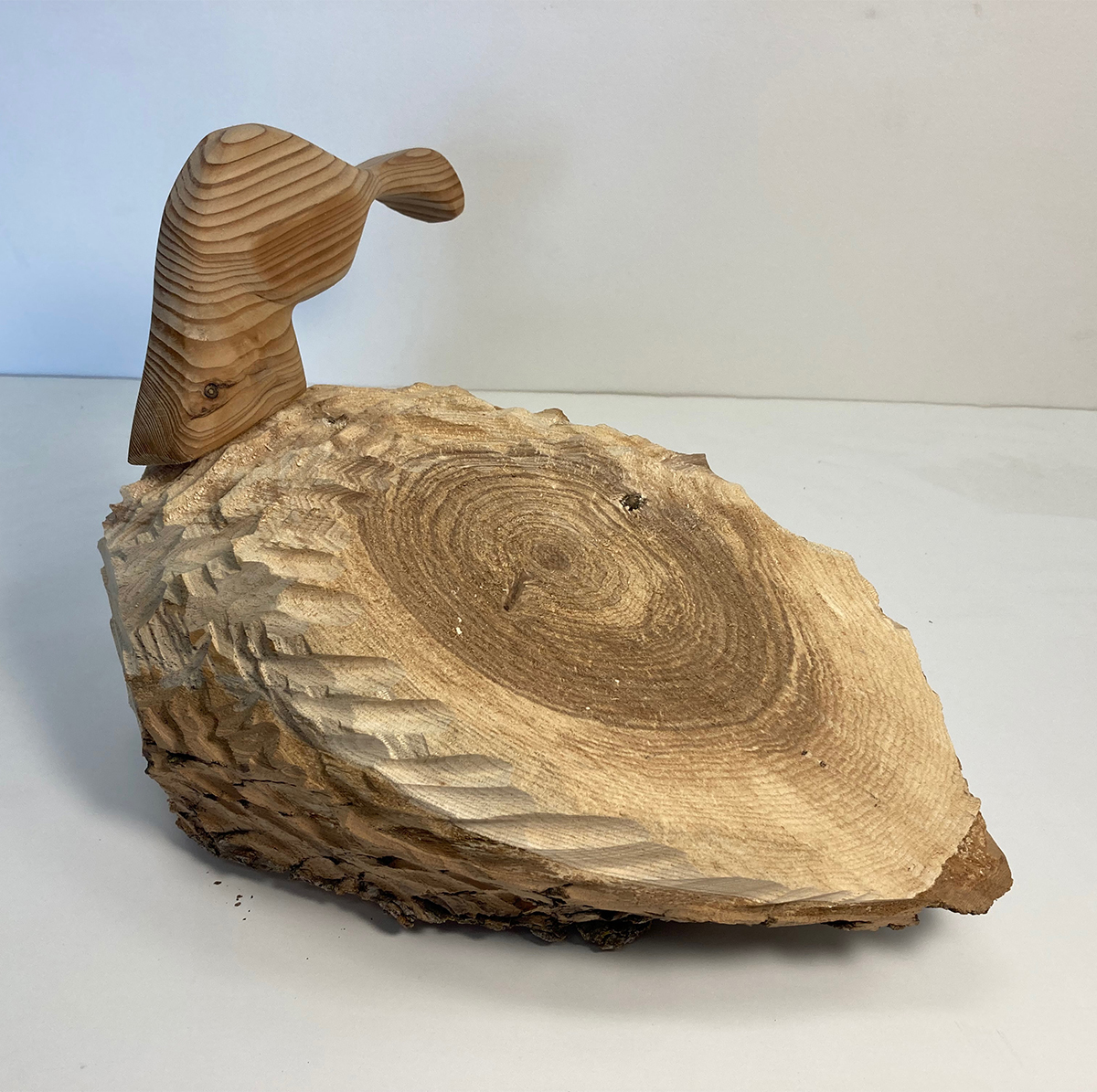 Oli Watt
Travis
2020
Pine, ash
13 x 8.5 x 9 inches
Oli Watt
Trix
2020
Pine, kids' blocks, ash
8 x 6.5 x 9 inches
Oli Watt
Bulb
2021
Ash, walnut, light bulb
13.5 x 5 x 11.5 inches
Oli Watt
Molecules
2021
Found decoy, plastic, wood
7 x 7 x 5 inches
Oli Watt
Careen
2021
Found wood, found duck sculpture
7 x 4 x 7 inches
Oli Watt
Diamond Foot
2020
Walnut, found wood
7 x 5 x 15 inches
Oli Watt
Duck Walk
2021
Printed produce box, found wood, pewter
11 x 6 x 20 inches
Oli Watt
Old Style
2021
Pine, acrylic paint, gold leaf, ash, aluminum, copper nails
17 x 6 x 8.5 inches
Oli Watt
Printhead
2020
Screenprint on birch plywood, maple
10 x 6 x 8.5 inches
Oli Watt
Rock Bottom
2020
Found decoy head, found rock
6 x 3.5 x 6 inches
Oli Watt
Violin
2020
Violin, Balsa, cherry
11 x 6.5 x 7 inches
Oli Watt
Stacks
2020
Found wood, pine
13 x 4 x 9 inches
Agustina Woodgate
Over Time
2019
14" National Time wall clock, sanding sticks, 8' orange power cord
Various dimensions
Unique edition
Courtesy of Spinello Projects
Installation Views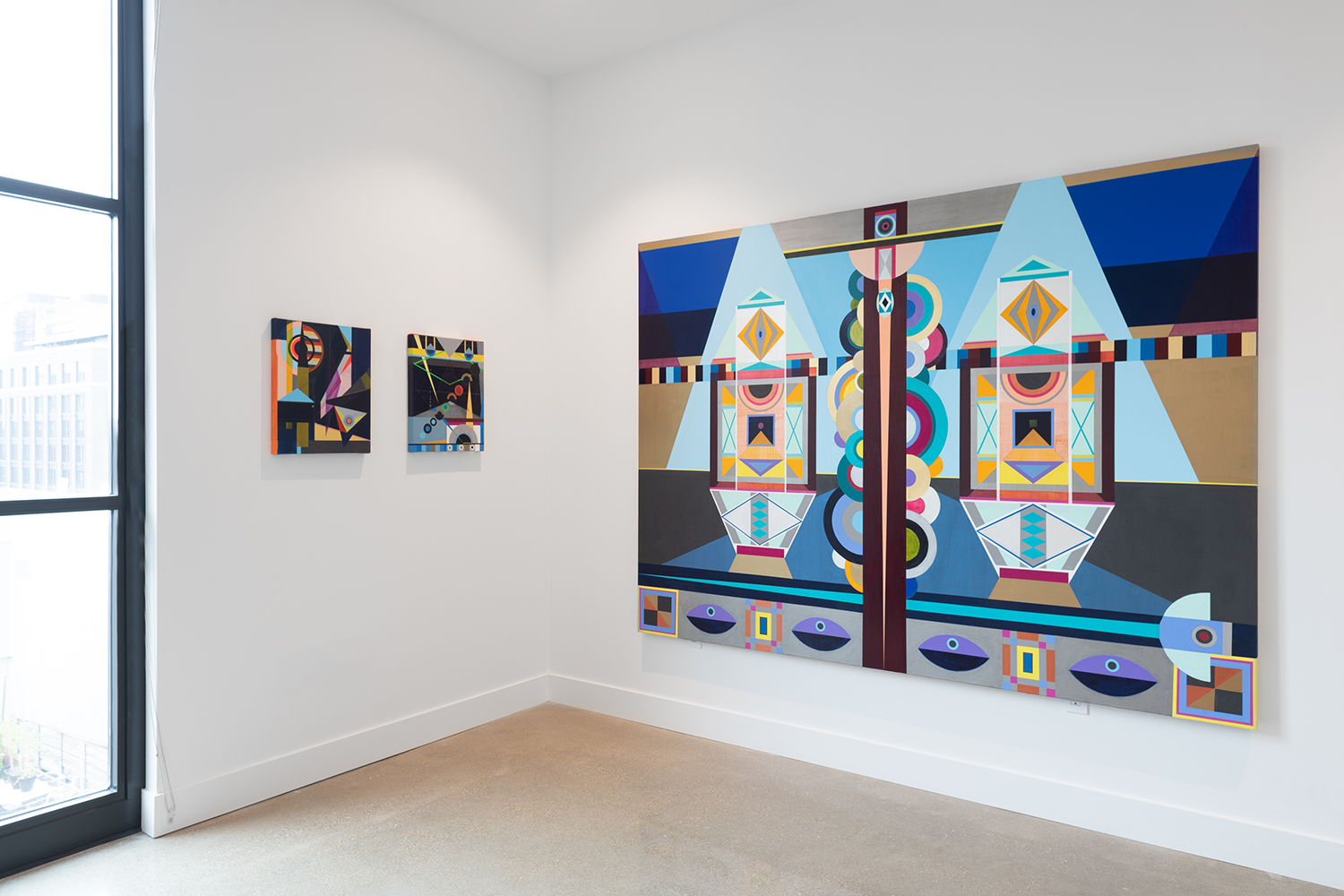 Installation Views
Video
Video